WE ARE OPEN DURING REGULAR HOURS AND TAKING EXTRA PRECAUTIONS
Things certainly have changed quickly for all of us over the past year. We want you, our community, to know that we are taking the Coronavirus (COVID-19) situation very seriously at our office.
Your health and the health of this community is of our utmost concern and we are taking all the necessary steps to follow all state regulations to ensure your health and safety. While our office is cleaned regularly, we have scheduled additional deep cleaning services to put your minds at ease.
Rapid PCR, Rapid Lower Nostril (Antigen), and Rapid Antibody Tests are available at North Market Chiropractic Clinic!
Results are typically available in actual time as follows:
PCR, 30 minutes or LESS
Lower Nostril, 10 minutes
Antibody, 10 minutes
A computer generated document detailing the results is then given to you for your records, your employer, domestic and international airports, etc.
COVID-19 ANTIBODY TESTING
DO I NEED AN APPOINTMENT?
Yes, we do require an appointment prior to testing to ensure we can provide you with prompt and quality care.
(North Market Chiropractic Clinic will conduct tests at the company's site for companies seeking to test 10 or more employees)
DO I NEED TO BE EXPERIENCING SYMPTOMS?
No! Whether you have concerns about a current infection, a past infection, or just want peace of mind, we can help.
HOW DOES COVID-19 ANTIBODY TESTING WORK?
When sick with COVID-19, people produce two antibodies. Antibody test kits offer a level of information that helps understand the Coronavirus progression in patients. Individuals that have contracted COVID-19, the disease caused by the Coronavirus, will produce two different antibodies at different times.
WHAT ARE THE IGG AND IGM ANTIBODIES?
You may be hearing a lot about antibody tests and what they mean. We have some information that we think you will find helpful.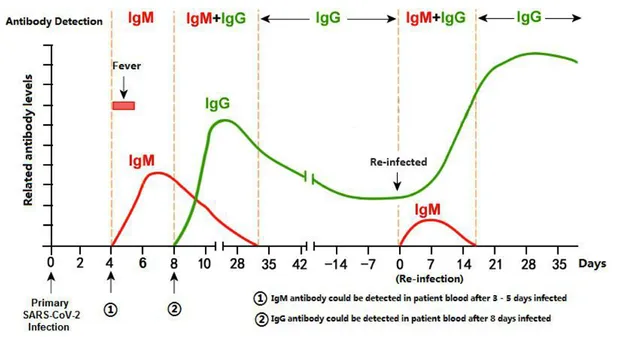 COVID-19 ANTIBODY TEST DETAILS:
The IgM antibody* is produced in the blood within days of an individual contracting COVID-19. This antibody helps identify the patient's stage of the disease.
The IgG antibody *is produced in the blood once a patient begins to recover. The IgG antibody help to identify that a patient is either in remission or had previously contracted COVID-19.
IMPORTANT: *Like most tests, an antibody test by itself may not indicate the presence of the Coronavirus. Antibody testing should be used in conjunction with other information and other testing protocols.